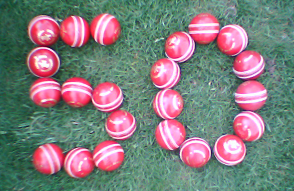 Badgers Cricket Club was founded back in 1959, so the 2008 season was our fiftieth – I wonder how many of the founders imagined that it would last as long as it has? It was decided that we should celebrate the occasion during the season rather than waiting for the actual birth date and we did so in style at Tadworth Cricket Club on the 20th July 2008. On this page you can find full details of that celebratory event, including a review of the day itself along with the original timetable of events, the rules and teams for the cricket to be played, important stuff about food and general amenities, information on how to get to the ground and where (not) to park when you get there, and a note on the arrangements in the event that the good old English summer weather lets us down on the day. There is also an archive of the 'Fiftieth Fact' items that I had been adding to the front page of the site in the run up to the event.
---
Review of the Day
A mixed bag from the weather – it didn't rain, but it wasn't all that warm either, especially for the spectators – but a good time was had by Badgers old and new. It was wonderful to meet up with some folk, both players and their relations, who I had not seen in years and there were a couple of tear-jerking moments for some of us, especially during the presentations.
I had hoped to piece together various elements of memorabilia from the day, but thus far what we have are Rodney Fenner's photographs which include some impressive action shots and that monster group photo. The club owes a vote of thanks to Rodney and Yvonne for the effort they put into obtaining these shots and for agreeing to their being made available to everyone at no cost.
The other item that we have for your delectation and amusement is the booklet that was made available in printed form to those that were there on the day. There are two versions available, both about one and a half megabytes in size in PDF format. You'll need Abode Reader to view or print PDF files but it is a free download from the Adobe web site. If you would like your own printed copy then download the booklet formatted for double side printing on A4 paper, which can then be folded into the A5 booklet format. If you would like to view and read the document on your computer screen then download the booklet formatted for reading on screen.
Back to top of page
---
Fiftieth Facts
6 May: Not unsurprisingly no single Badger has played in every one of the club's fifty seasons of existence, but Allan Butt holds the remarkable distinction of having played in both the first season (1959) and the fiftieth (opening the bowling and taking his 279th wicket for the club against Broadbridge last weekend).
31 May: Whilst Allan Butt has the longest span of seasons played he does not hold the record for the most seasons played, because of missing most of the seventies and eighties. Instead that distinction belongs to Dave Tickner, who has played in 39 seasons from 1969 to 2007. That is also the record for most consecutive seasons and Dave may yet extend that streak if we get him out at some point this year.
8 Jun: Dormansland are by far and away our most regular opponents, both in terms of total number of games played – one for every season of the Badgers' existence, with each team recording seventeen wins over that period – and in terms of longevity, since the two teams first met on 25th August 1962 and the most recent meeting was just two weeks ago, 25th May 2008.
16 Jun: Keith Miller is the club's longest serving officer, having held the post of Honorary Treasurer for the last twenty-two seasons, a feat that is almost matched numerically, and probably exceeded in terms of the dedication and effort involved, by Roy Gordon's seventeen seasons as Team Secretary. For overall years of service neither can quite compete with Laurence Pitts who held club offices – President, Chairman, Hon. Secretary and Hon. Treasurer – for a total of 44 years.
4 Jul: The club's on-the-field workhorse over the years is fairly easy to spot when you look at the Lifetime Averages – Alan Tickner has bowled more overs (4323) and played more innings (505) than any other Badger and nobody else is all that close in either category. This holds true even when you average out those numbers, with Alan leading both categories with over 13 innings and 113 overs per season played. Interestingly, two players with considerably fewer seasons played are close behind – Graham Ward has averaged exactly 13 innings over his six seasons with the club whilst Ian Gregg has sent down an average of 109 overs in his ten seasons.
18 Jul: The term 'Badgers Collapse' has been common parlance at the club ever since I can remember (and certainly back to the early Seventies) so it may surprise you to learn that we've never lost more than four wickets on the same score, albeit that such a collapse has happened fifteen times. However, the most impressive collapses are those from a position of (relative) prosperity to innings over and there have been a fair few of those, especially in the early days. Probably the most spectacular would be a 1976 game against the BBC when 24 for no wicket became 43 all out, although the loss of six wickets for one run against Sutton Railway in 1973 runs it pretty close. In recent times the bat has tended to hold sway over the ball so such failures have been relatively rare but last season's Ockham game saw a decline from 119 for 2 to 126 for eight and then 140 all out and the 2006 match against Ham & Petersham 'featured' the loss of five wickets for just one run.
29 Jul: Up to and including this season's game against Ham & Petersham the Badgers have played 876 completed 'official' matches (ie. those that were not abandoned and which counted towards the averages) of which we have won 398, lost 259, drawn 216 and tied 3 – a 57.9 winning percentage. Strangely, two of those three ties came in the same season, 1977.
29 Aug: There have been forty instances of a Badgers' bowler taking seven wickets or more in an innings, and I'm sure it will shock nobody to discover that the best of those belongs to Brian Moore, whose ten for two against Montrose in 1966 is unlikely ever to be surpassed. However, only three of those forty occurrences have taken place in the last decade, with the most recent being Graham Davenport's 7 for 51 against Alleynians in 2005, and only fourteen of them were recorded by anyone other than Brian.
Addendum: Graham Ward's eight wickets in the final game of the 2008 season represents the fourth haul of seven or better in the fifth decade and means that 41 have been recorded over the full fifty years. Since I put
together a couple of neat little pie charts for the batting equivalent of this item I thought that I'd do the same for the bowlers, albeit slightly after the fact. The 'by player' chart makes it apparent just how dominant Brian Moore has been in this category, even with the latest addition, and how rare this feat has become over the past twenty years (in marked contrast to the century count).
25 Sep: There have been thirty-eight centuries scored over the fifty seasons, with Chris Morgan's unbeaten 140 against Englefield Green back in 1980 remaining the best of them and Patrick Redding leading the way with seven innings of one hundred or better. In direct contrast to the bowling the batters have obviously
been getting the upper hand over recent seasons, a subject that I intend to come back to when I've had the chance to analyse the data more fully. The first two decades saw only seven tons, whilst the third decade added another six (five of them courtesy of Chris). The fourth decade added ten more to the total, spread fairly evenly over the years, but in the fifth decade things have gone a little mad, starting with 1999 when four were scored in the one year, and Bill's knock in the final game of 2008 was the fifteenth century of the last ten years.
Back to top of page
---
Fiftieth Celebratory Event
Badgers Cricket Club is in its fiftieth season, and will mark this milestone with a celebration, to be held at Tadworth Cricket Club on Sunday 20th July 2008. All current and former members of the Club (and their families) are invited. The venue provides an ideal spot for this family day. There is a large clubhouse with bar, and plenty of space to picnic around the ground. It is away from roads and safe for children. We look forward to seeing all of you there and to marking this achievement in fine style.
The timetable for the day will be:
11.30–12.30

Arrival and Welcome Drinks followed by own picnic lunch

12.30–2.15

Cricket: Captain's XI vs. President's XI

2.30–4.15

Cricket: President's XI vs. Chairman's XI

3.30 approx

Tea & Cakes

4.30–6.15

Cricket: Chairman's XI vs. Captain's XI

6.00

'Fish and Chips' dinner

7.00

Group photo

7.10

Speeches and Formalities

8.00–9.00

End
We will have contingency arrangements in case of rain, but will definitely continue with the event on this date (see below).
Those who will be playing in the first cricket match need to arrive in time for a 12.30pm prompt start to proceedings. Other cricketers should arrive by 1.30pm at the latest. Arrival time for those not playing is less formal, but we do hope that everyone will be there by tea at the latest, and that as many of you as possible will be there for the whole day.
Cricket on the day
We will be holding a round-robin competition between a President's XI, a Chairman's XI and a Captain's XI. Each game will be limited overs format with 12 overs per side and with lots of local rules to make sure that everyone is involved and nothing gets too serious or strenuous. The sides have been selected by Alan Tickner and Graham Ward, and can be found below, along with the rules for the games. Whites are not mandatory and we will supply all the regular kit, but please bring some trainers as well as spikes (if you have them), just in case we have to use the all-weather pitch.
Rules
12 overs per side (6 balls preferably)
Limited run ups (very limited in some cases)
Retire at 25 runs (Patrick!)
2 overs maximum per bowler (1 could be enough for some)
No LBWs
No Golden Ducks
All players field (or pretend to!)
Each fielder takes it in turn to wear a wig. Caught by the wig results in 5 penalty runs (added to the fielding team's score)
Bottle of wine for Man of the Series for each team (nominated by each Captain)
Teams
| Captain's XI | President's XI | Chairman's XI |
| --- | --- | --- |
| Mark Gordon | Roy Gordon | Simon Fox |
| Ben Valentine | Rodney Fenner | Terry Faires |
| Richard Ward | Barry Davenport | Michael Willmott |
| Rakesh Dawar | Ian Gregg | James Chignell |
| Guy Walker | Bill Jenkins | Paul Wilson |
| Matthew Mann | Richard Kemp | Ray Ward |
| Keith Miller | Robbie 'Kemp' | Paul Little |
| Sahil Dawar | Chris Morgan | John Larkin |
| Nick Williams | Allan Butt | Graham Ward |
| Dave Tickner | Greg Noble | Patrick Redding |
| Brent Noble | David Jones | Brian Moore |
| Darrell Pitts | Alan Tickner | Huw Campbell |
| Darren Hanley | Steve Pitts | Steve Goldman |
| | | John Moffatt |
Catering arrangements
We will be providing a welcome drink for everyone arriving from the start of the event through until tea. We are not making any arrangements for lunch and therefore recommend that those coming along for the whole day bring their own picnic lunch. We will serve tea and cakes at around 3.30pm. The main repast is our Fish & Chips supper, which will be served between 5.30 and 7pm. Chicken, pies, sausages or vegetarian sausages will available as an alternative to fish for those who have elected this. Unfortunately, we will not be able to provide salads as we'd said previously, and we can't cater for gluten free, or nut allergies. So, if you'd requested these diet options, we'd ask that you bring your own picnic supper. Our apologies for this – we hope you will understand that the catering logistics just don't allow for these options.
We will be providing wine and soft drinks with supper and Tadworth CC's bar will be open from 11.30am through to the end of the event for any other drinks.
Facilities at Tadworth
Tadworth CC have a large clubhouse with bar, and plenty of space to picnic around the ground. It is away from roads and safe for children. We will have two gazebos to provide shade and/or shelter – please feel free to bring your own to add to our tented village. Tadworth do have one table that we will use for the welcome drinks and chairs that we can use, but they are definitely 'village hall variety', so we would encourage you to bring your own picnic furniture if you have some. There are men's and ladies' toilets in the pavilion.
Directions & Parking
Tadworth CC is on Tadworth Green, Mill Road, Tadworth, KT20 7TE. Directions to the ground as provided by TCC on their website are:
Just off the A217 heading North from Reigate and the M25 Junction 8.
Take Mill Road (B290) before you reach the traffic lighted roundabout.
Our Club House is about half way along Mill Road – Please park on the right.
Please keep the marked white line free. This is to allow emergency vehicles on to the ground should there be a need.
You can also approach Mill Road from Tadworth and Walton Heath, in which case parking will be on the left. If you are coming south on the A217 from Banstead/Sutton, take the B2032 (3rd exit) Dorking & Headley road at the Kingswood roundabout. Mill Road is the first (sharp) left, just past the Blue Anchor pub on the right. Parking is roadside – we will put out some black and white balloons to help you spot the entrance, though because of the number of cars we are expecting you may have to walk a few yards to the ground. (Think of it as practice for the long walk back!). Please note that you should not park up on the verge – Tadworth have told us that from time to time wardens ticket cars along this road if they have nearside wheels on the verge.
If you use a browser capable of handling Google Maps then you may also care to use the location in our 'Badgers CC Opponents' map as a starting point for getting directions or planning your journey in some other way.
Contingency plans for wet weather
We have taken the decision that we will definitely go ahead with our celebration on 20th July come rain or shine. Obviously we are all hoping for sunny weather, but we have also made provisions in case of rain. We will be tuned into the forecast throughout the week leading up to the 20th, and if rain is forecast we will ring round everyone to let them know what the updated plans are. We will also provide updates on our website up until the morning of the 20th.
Back to top of page